Sense and the City


What if a sight-seeing tour was equally about sensation-feeling, flavour-tasting, scent-smelling and sound-listening?

What if a city tour was not primarily designed for tourists, but equally, for the city's inhabitants?






Sense and the City is a crowd-sourced mapping project, aiming to highlight urban locations in Gothenburg and beyond which have interesting or unexpected sensual qualities. The online map contains information about the locations, their particular sensual qualities and the specific times it's possible to experience them. Sense and the City is the latest iteration of a wider research project which questions what a feminist psychogeography is or could be.






︎View the map


︎ To contribute to the map email aboulton2@gmail.com with a suggested location and details of when to visit. Contributions can either be in English or the local language of the location (Svenska or English for the Gothenburg map).


︎ Follow @citysenseclub for updates on the project's development, including upcoming group tours of locations on the map.





Below: Installation views at the group exhibition If you listen I will tell, Galleri Monitor, Göteborg 2019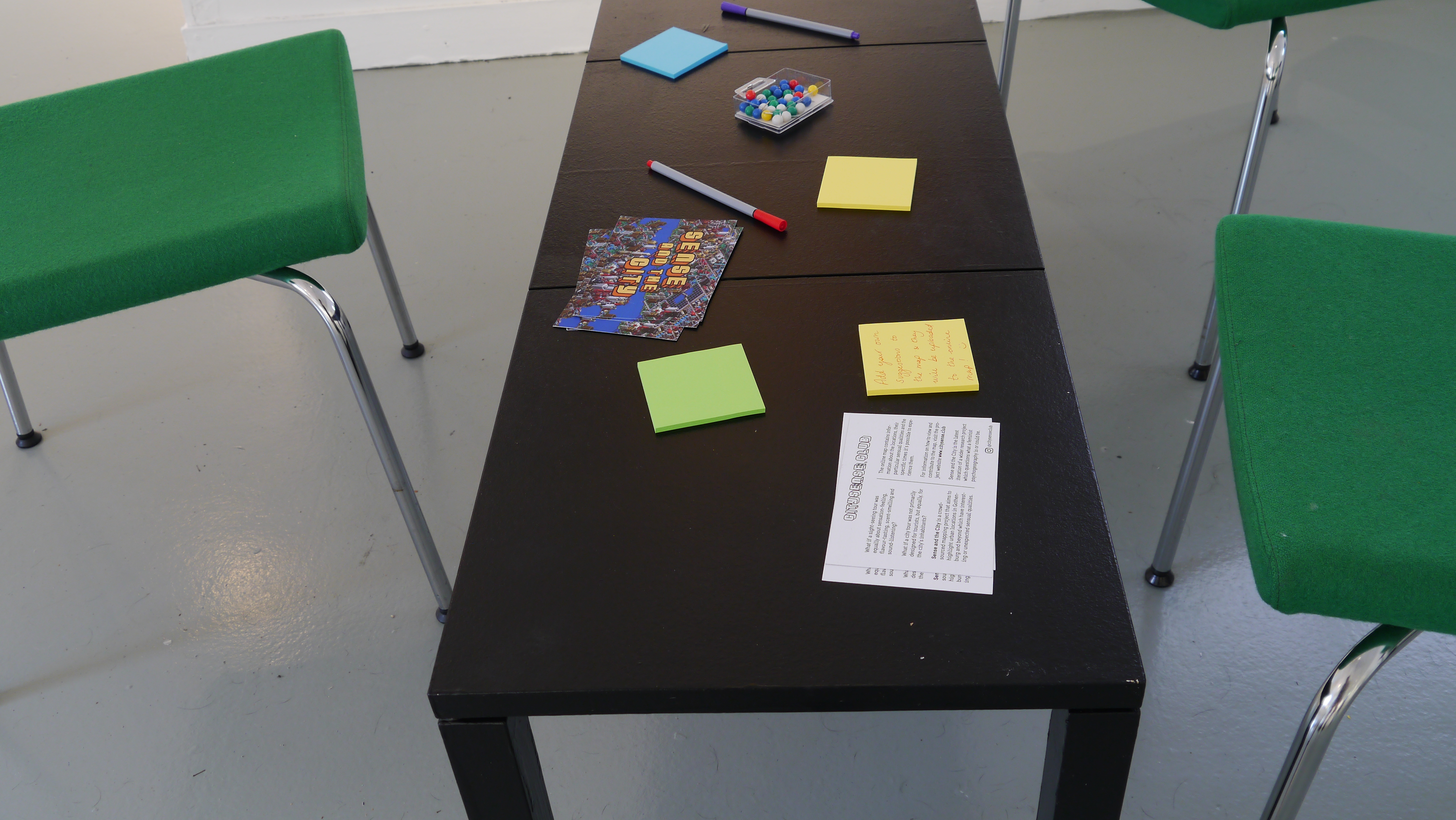 Above: In the installation, visitors were invited to add their suggestions on post-it notes to a projected map of Gothenburg, to be added to the online map after the exhibition.



---
︎
Street Haunting (Göteborg, Leeds, London, São Paulo)
Audio installation, 8-12 minutes, 2019
Street Haunting
consists of four audio tracks available to listen to on headphones in the dark: soundscapes collected in four cities, each with a distinct narrator who accompanies the listener on an imagined walk together in that city.
With thanks to Rose Borthwick, Mathilda Franzén, Katxerê Medina and Lucy Wilson.
Click here to listen to excerpts of each track
(designed for litstening with headphones/earphones)

Installation shot at Things We Will Forget, Göteborgs Konsthall 2019. Image courtesy of Akademin Valand/Danielle Heath




---
︎
Gothenburg Underground Tour (2018)
12-22 April 2018
Gothenburg, Sweden
Gothenburg Underground Tour
is an audio-visual guide to four sites in Gothenburg with a hidden underground. As a tour participant you are invited to go to any or all of these sites in the order you choose. There you will find an augmented reality 'marker', which you can activate on a smartphone using the AR camera link. If prompted, allow access to your camera view, then point at the marker to view the augmented reality.
For each site there is also an audio guide, press the play button at the bottom of your screen to listen (press again to pause, press stop to restart).
Video demo:
https://vimeo.com/262806282

Above: augmented reality custom markers for each site
This project was created as a collaboration between Amy Boulton and
Connie Nguyen
(studying MSc. Interaction Design at Chalmers University of Technology).
Voiceover by Siri Frances Wibell
With thanks to Slottsskogens Vandrarhem
---
︎
City Samples
Audio installation consisting of soundscapes collected in the city of Gothenburg and local clay, in a darkened gallery space with two benches in the centre.
Galleri Monitor, Akademin Valand
November 2018
Listen to the audio track
here
(best experienced with stereo speakers or heaphones)
Installation views at Galleri Monitor, Gothenburg
---
︎


Proposal for Construction Hoarding (2016)

05:25 HD Video installation (looped, no sound) (4.21 x 2.1 x 0.85m approx.)

On show at GENERATORprojects Dundee 12 Nov – 4 Dec 2016








Images credit: Jacquetta Clark / Generator Projects



(Vimeo embed) https://vimeo.com/189040246





Created for screening on a replica construction hoarding fence, this short film combines found promotional footage, stock silhouette figures and shots of urban Dundee both under construction and on the ordinary streets. Anonymous figures infiltrate the real locations they were composited in to occupy, breaching the boundary of their CGI cityscape.



Developed during graduate residency at Hospitalfield Arts Arbroath 2016.



---