︎



Training Set (2021-current)


'Training Set' is a work in progress that uses interactive audio and sculpture to explore the use of artificial intelligence as a solution to difficult and complicated human problems such as loneliness and anxiety. The project highlights how emerging voice assistant technologies can reinforce outdated gender stereotypes and attempt to imitate and commodify gendered forms of work such as emotional and domestic labour.


Training Set Prototype 1 (Clay, silicone, latex, oil and spray paint, echo dot smart speaker, instructions on A4 paper print).
Shown at Another New Beginning group exhibition, Stenkolsateljén Göteborg 2022



In Prototype #1, found "skills" from Amazon's Alexa are highlighted as examples of the trope of the virtual girlfriend. Exhibition visitors could activate a vocal response from the mouth sculpture by saying one of the example phrases listed on the wall beside it.



Historically under-recognised and un/underpaid feminised forms of labour are being simulated, simplified and packaged as a sellable product in the emerging fields of voice user interface design and natural language understanding/processing. To reflect this, in the wider project a series of fictional personas are being 'trained' to offer conversations on specific themes and topics by creating custom "skills" via Amazon's developer console: the domestic assistant, the girlfriend, the therapist and the the health and reproductive assistant.

One talking mouth may be able to offer you the latest advice on how to find a sperm donor and where you can freeze your fertilized embryo, while the next offers a complementary mindfulness session. The underlying shared goal of each training set is to subtly encourage behaviours of self-quantification and optimisation, the subtext of which is an assumption that we can be made docile and complacent if all our complex human needs for care, companionship, daily routine and structure etc. are able to be individualised and pacified by automated systems.




Instructions to activate found "skills" on the concealed echo dot device


From the first chatbot program 'ELIZA' in the 60s, to today's Siri and Alexa, voice assistants are feminised by default as both as a tool of soft persuasion and due to unconscious bias - implying that feminine means somehow less than equal (as subservient assistant or as a machine/child/pet that requires training).

VUI technologies are becoming unavoidable: they are integrated into more and more public services to replace a paid workforce, and many people have to adapt their natural way of speaking to be understood by the machine. The project therefore also asks the question of who is training who, as smart speaker systems attempt to increase our capacity or willingness to produce and consume in our techno-capitalist society.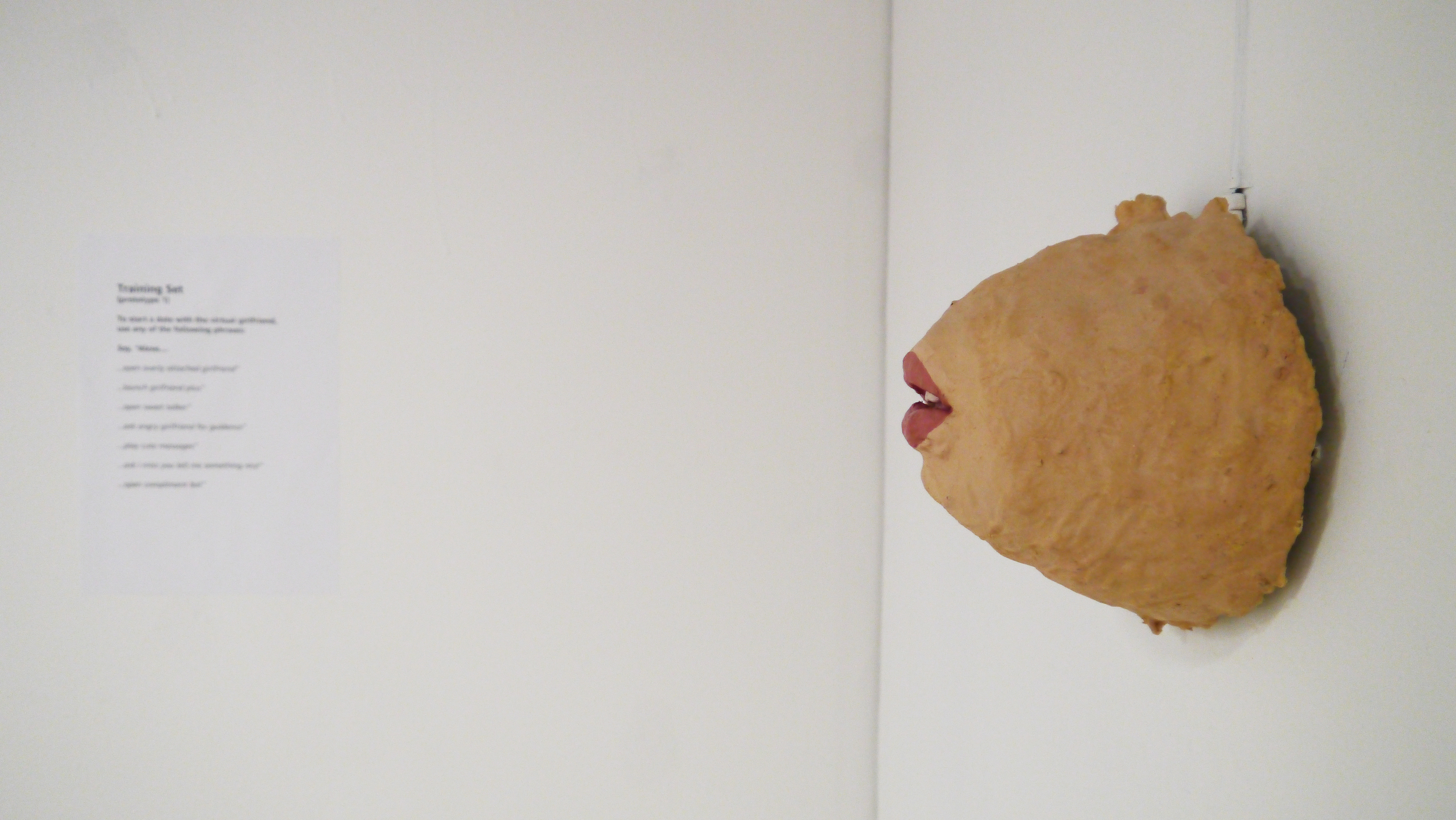 Exhibition view at Another New Beginning, 2022


Beskrivning på Svenska:

Det pågående projektet "Training Set" består av 4 karaktärer i form av kvinligga munnar upssatta på vägg (i silikon, latex och lera) med smarta högtalare gömda inom sig. Varje karaktär har varsin "skill" (funktion) som man aktiverar genom att säga en specifik fras. Skräddarsydda "skills" är gestaltade genom Amazon developer console (för Alexa högtalare), och dem representerar olika typer av feminiserat arbete som smarthögtalare nuförtiden försöker imitera: emotionellt och omsorgs arbete (som en digital flickvän/terapeut), reproduktion (fortplantning) samt hushållsarbete.





With support from Göteborgs Stad